12th New Mexico-Arizona Book Awards
The 2018 New Mexico-Arizona Book Awards
Winners were announced at November 16, 2018 Awards Banquet

• 2018 Book Awards Entry Information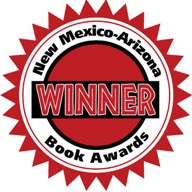 2017 Award Winners

Award Stickers




COVER•READS
The only comprehensive book event calendar in the Southwest. Get more info on this by CLICKING HERE!
Promoting the Literary Diversity of New Mexico
Book Publishers & Authors & New Mexico Books

Welcome to New Mexico and Arizona's largest non-profit cooperative organization featuring New Mexico and Arizona books, publishers, and authors. We are a partnership of over 1,500 publishers and authors who are interested in showcasing and selling books about New Mexico, Arizona, and the Southwest. We showcase and sell books, and help people meet these goals. We invite any individuals actively engaged in publishing and authoring books to join any of our activities; there are no membership dues!


The meetings of the New Mexico Book Co-op are held at 12 noon at the Golden Corral on San Mateo in Albuquerque (next to Cliff's). People start gathering for lunch between 11 and 11:30am. Check the meeting schedule HERE.
Sign Up Here to Get Regular Mailings
from the New Mexico Book Co-op

Fill out the form below if you wish to get regular email list for notices and information from the New Mexico Book Co-op:


New Mexico Book Co-op

The New Mexico Book Co-op is a partnership of over 1,500 local authors and publishers. Our sole purpose is to showcase and sell local books. We have organized a variety of activities that allow local authors and publishers to promote their books and to make them available for sale to the public. We also have created several alliances with booksellers to showcase local books. All the Borders stores in New Mexico, for example, are displaying the winners in the New Mexico Book awards, sponsored by the New Mexico Book Co-op and several other organziations. Borders is also scheduling special book signing events for all these winners as a way of promoting local New Mexico books. The New Mexico Book Co-op has also arranged regular columns in several newspapers and magazines featuring local books; check out the
Alibi
and
PrimeTime
for examples of these regular information sources. The best part of all these activities from the New Mexico is that there are no membership dues. Anyone interested in local books can join in this partnership and participate in any or all of our activities.


The New Mexico Book Co-op received the
2005 Book In Hand Award
from the New Mexico Book Association for significant contribution to bookselling in New Mexico. The New Mexico Chapter of the Public Relations Society of America awarded the New Mexico Book Co-op the
2005 Silver Cumbre Award
for an exceptional Institutional Promotions Campaign. In addition to these two major awards, the Co-op has received seventeen major website
awards.