2017 New Mexico-Arizona Book Awards


11th Annual New Mexico-Arizona Book Awards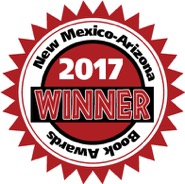 • 2017 Winners
• 2017 Finalists
• 2017 Award Stickers


The winners of the 2017 Book Awards program
were announced at the Awards Banquet on Nov 17.
Winner and Finalist information is available under separate tabs for 2017 as well as previous years.
Check the Navigation Bar at the top under "Book Awards."
Promoting the Literary Diversity of New Mexico
Book Publishers & Authors & New Mexico Books

Welcome to New Mexico and Arizona's largest non-profit cooperative organization featuring New Mexico and Arizona books, publishers, and authors. We are a partnership of over 1,500 publishers and authors who are interested in showcasing and selling books about New Mexico, Arizona, and the Southwest. We showcase and sell books, and help people meet these goals. We invite any individuals actively engaged in publishing and authoring books to join any of our activities; there are no membership dues!


The meetings of the New Mexico Book Co-op are held at 12 noon at the Golden Corral on San Mateo in Albuquerque (next to Cliff's). People start gathering for lunch between 11 and 11:30am. Check the meeting schedule HERE.