New Mexico-Arizona Book Awards


Welcome to New Mexico and Arizona's largest non-profit cooperative organization featuring New Mexico and Arizona books, publishers, and authors. We are a partnership of over 1,400 publishers and authors who are interested in showcasing and selling books about New Mexico, Arizona, and the Southwest. We showcase and sell books, and help people meet these goals. We invite any individuals actively engaged in publishing and authoring books to join any of our activities!
2016 New Mexico-Arizona Book Awards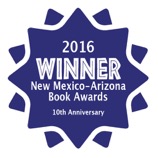 10th Anniversary Book
A special commemorative book has been produced for the 10th Anniversary of the New Mexico-Arizona Book Awards. The 80 page book contains all the finalists and winners in the book awards program since 2007, a total of over 2,200 books are listed, as well as the current 2016 winners and finalists.The book was distributed free at the book awards banquet and is now available to all who wish to get a copy (while supplies last).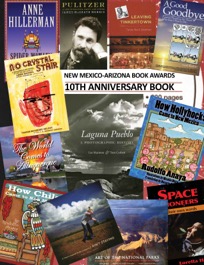 Winner and Finalist information is available under separate tabs for 2016 as well as previous years. Check the Navigation Bar at the top under "Book Awards."