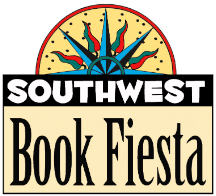 Southwest Book Fiesta

To help underwrite the costs of producing this book festival, Southwest Book Fiesta is actively seeking sponsors. This support will allow for free parking as well as the expenses of bring in national recognized authors to this event. Logos and corporate identification will be added to this website and all promotional materials as sponsors are identified.
The Southwest Book Fiesta is seeking sponsorships now. Click on the "Sponsorships" button below for more information.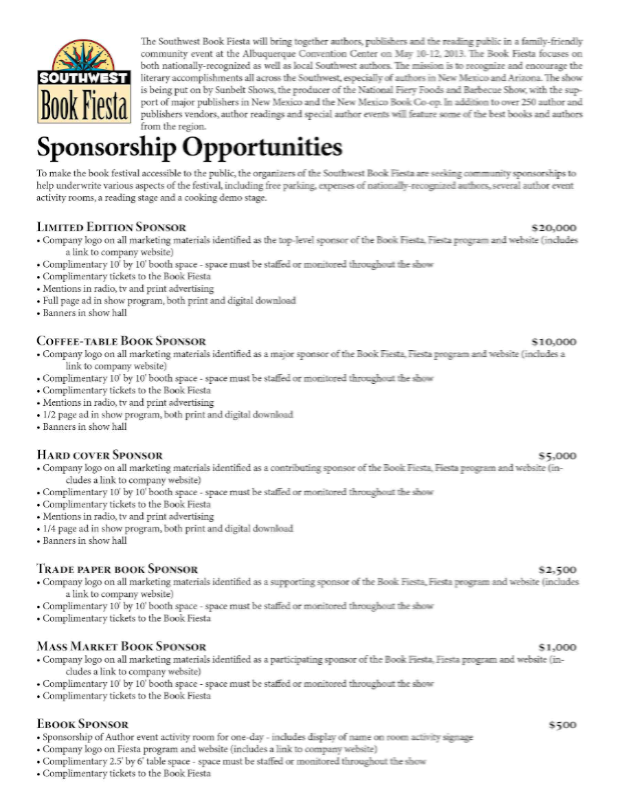 Sunbelt Shows, one of the largest trade show producers in the Southwest, has begun planning for the Southwest Book Fiesta, which will be held at the Albuquerque Convention Center on May 10-12, 2013. The New Mexico Book Co-op supports this huge effort to increase awareness of reading and literacy in the region. This will be one of the largest book festivals in the region.

The Southwest Book Fiesta will bring together authors, publishers and the reading public in a family-friendly community event. The Book Fiesta will focus on both nationally-recognized as well as local New Mexico and Arizona authors. The mission is to recognize and encourage the literary accomplishments of New Mexicans and Arizonans.

Readings and special author events will feature some of the best books and authors from the region.

Proceeds of the Southwest Book Fiesta go to the New Mexico Library Foundation and the New Mexico Coalition for Literacy and are used to promote literacy and reading programs in New Mexico. Other recipients may be identified in the future.

The show is being put on by Sunbelt Shows, the producer of the National Fiery Foods and Barbecue Show, with the support of major publishers in New Mexico and the New Mexico Book Co-op. In addition to over 250 author and publishers vendors, author readings and special author events will feature some of the best books and authors from the region.